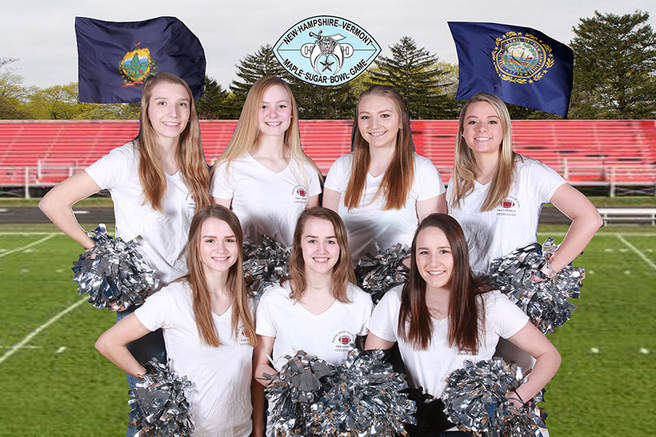 Shrine Bowl Cheerleaders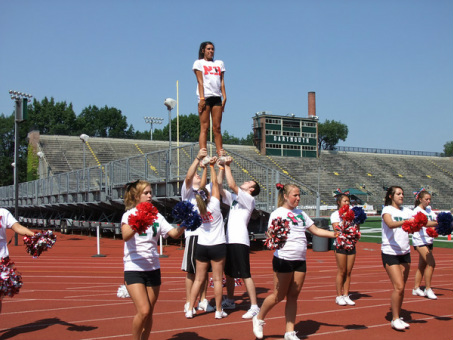 ​The 2018 cheerleaders will again be coached by Jada Belt, assisted by Jenn Ferland.

It's hoped that the number of cheerleaders will continue to grow. Nomination forms for cheerleaders have been sent to each school. Please see your cheerleading coach.

Those who are nominated and return parental consent forms will invited to attend a special meeting with their parents this coming April in Lebanon, NH.

The cheerleaders will spend one night at Castleton University preparing for the Bowl Game. They will also attend the Players Awards Dinner that same evening.
---
2018 Shrine Maple Sugar Bowl Cheerleaders
Kassidy Buley
Mill River Union H.S.
​

Katrien Dexter
Littleton H.S.
​

Nicole Epstein
BowH.S.
​

Lexus Glew
Bow H.S.
​

Victoria Kelly
Londonderry H.S.
​
Raquel Madeja
Stevens H.S.
​

Hannah Martin
Londonderry H.S.

Aspen Mascarenas
Bow H.S.



Leeann McCarthy
Stevens H.S.

Jasmine Patenaude
Newport H.S.
​
Taya Simmons
Stevens H.S.
​

Sophie Skidmore
Littleton H.S.
​

Oshen Stone
Fair Haven Union H.S.
​

Cassandra Stuart
Londonderry H.S.
​

Celeste Woodman
Littleton H.S.
​
---
Below are three forms for cheerleaders and their parents to complete and sign. Please mail the forms to the Shrine Office.