Game Fact Sheet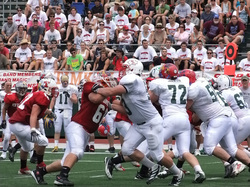 64th GAME - SATURDAY, AUGUST 5, 2017 – Castleton University – Castleton, Vermont
PARADE: 3:00 PM; KICK-OFF: 5:30 PM

1ST GAME HELD ON LABOR DAY IN 1954 IN NASHUA, NH

2016 FOOTBALL SCORE:
VERMONT - 50 NEW HAMPSHIRE- 2

OVERALL SERIES 47-14-2 IN FAVOR OF NEW HAMPSHIRE

SPONSORING SHRINE CENTERS: CAIRO – RUTLAND, VT / MT. SINAI – MONTPELIER, VT

ALL NET PROCEEDES BENEFIT THE SHRINERS' HOSPITAL FOR CHILDREN:
SPRINGFIELD SHRINERS' HOSPITAL – SPRINGFIELD, MA
MONTREAL SHRINERS' HOSPITAL – MONTREAL QUEBEC, CANADA
BOSTON BURNS INSTITUTE – BOSTON, MA

RAISED $4,500,000 IN THE FIRST 62 YEARS.

THERE ARE 19 ORTHOPAEDIC HOSPITALS FOR CHILDREN AND 3 SHRINE BURNS INSTITUTES. THE CARE RECEIVED IS ABOUT THE BEST IN THE WORLD AND IT IS AT NO COST. ANY CHILD UP TO THE AGE OF 18 IS ADMITTED WITHOUT REGARDS TO RACE, COLOR OR CREED.
---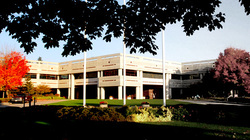 TEAMS REPRESENTING NEW HAMPSHIRE AND VERMONT - 36 PLAYERS EACH.
​PLAYERS ARE 2017 HIGH SCHOOL GRADUATES.

TRAINING PERIOD: JULY 30 - AUGUST 4
WITH BOTH TEAMS TRAINING AT CASTLETON UNIVERSITY.

VERMONT HEAD COACH: Bob Lockerby of Bellows Falls VT
NEW HAMPSHIRE HEAD COACH: Rob Cathcart of Trinity High School

IN EACH STATE, PLAYERS ARE NOMINATED BY THEIR HIGH SCHOOL HEAD COACH AND SCREENING COMMITTEES OF EIGHT COACHES CHAIRED BY THE SHRINE HEAD COACHES SELECT THE TEAMS.
NO MORE THAN TWO PLAYERS CAN BE SELECTED FROM A NEW HAMPSHIRE SCHOOL AND THERE MUST BE TWELVE FROM EACH DIVISION. NO MORE THAN FOUR PLAYERS CAN BE SELECTED FROM A VERMONT SCHOOL, WITH 18 FROM DIVISION I, 12 FROM DIVISION II and 6 FROM DIVISION III

EXCEPT FOR ONE HALF TIME OFFICE STAFF AND ONE PART TIME SUMMER ASSISTANT, NO ONE IS PAID, EXCLUDING EXPENSES. COACHES, OFFICIALS AND SHRINERS ALL GIVE THEIR OWN TIME AND SERVICES.

TICKET PRICES: $10.00 SHRINERS, $12.00 ADVANCED, $15.00 GAME DAY



---
Shrine Bowl Game Statistics

TEAM:

Most Points Scored: 2012 - NH: 62 points
2016 - VT: 50 points
​
Most Points Combined: 2000 - 87 points

Most First Downs: 1970 - NH: 24
2000/2004 - VT 24

Fewest First Downs: 1954/1975/1977- NH: 6
1981 - VT: 1

Most Yards Gained Rushing: 2011 - NH: 421

Most Yards Gained Passing: 2000- VT: 352

Most Total Yards (Rushing & Passing): 2000- NH: 533

*Most Passes Attempted: 2010- VT: 55
Accomplished in four 12 –minute quarters

Most Passes Completed: 2000- VT: 30

INDIVIDUAL:

Most Yards Gained Rushing: Max Jacques, Salem 2011 - 248

Most Yards Gained Receiving: Kyle Gaudet, Gilford 2015 - 190 (5 receptions)

Most Passes Caught: David Faulkner, Lebanon 1967 - 8

Most Touchdown Passes Thrown: Michael Keenan, Mt. St. Joseph 2000 - 6

Most Passes Completed: Michael Keenan, Mt. St. Joseph 2000 - 6

Most Passes Thrown: Michael Keenan, Mt. St. Joseph 2000 - 49

Most Yards Gained Passing: Michael Keenan, Mt. St. Joseph 2000 - 352

Most Extra Points Made: Dan Gorman, Hanover 2012 - 8

Longest Punt: Duane Holmquist, Brattleboro, 1968 - 70

Longest Interception returned for TD: Kyle McAulfee, Plymouth, 2010 - 90

Longest Touchdown Run: Thomas Scherwertz, Newport ,1962 - 82

Longest Touchdown Pass: C. Discesare to K. Gaudet - Portsmouth & Gilford, 2015 - 90

Longest Pass Play: C. Discesare to K. Gaudet - Portsmouth & Gilford, 2015 - 90

Longest Punt Return for T.D.: Montrez Payton - Salem, 1999 - 65

Longest Field Goal: Tyler Ford, Souhegan, 2013 - 42

Highest Punting Average (3 or more punts):
5 –43 avg. Duane Holmquist, Brattleboro - 1968

Longest Kick-off Return for TD:
95 - Robert Rossiter, Newport, NH – 1967
92 – Mark Rebeiro, Merrimack – 1995

Most Touchdowns Scored:
3 – Steve Schubert, Manchester Central 1969
3 – Les Wolfgram, Manchester West 1970
3 – Rick Brodowski, Mt. St. Joseph 1971
3 – Ryan Lacass, Mt. Anthony 1995
3 – Brian Holmes, Newport 1997
3 – Willey Kinley, Burlington 2000
3 – Michael Boyle, Plymouth 2004
3 – Max Jacques, Salem 2011 (in 48 min game)
3 - Jerickson Fedrick, Salem 2012
3 - Kyle Gaudet, Gilford 2015