The Twin State's Finest Meet at Spartan Stadium at

Castleton University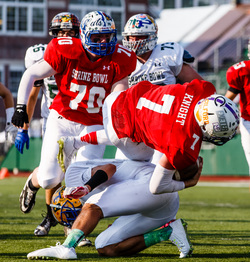 The Shrine Maple Sugar Bowl Football Game is played between two all-star teams of graduated high school seniors from Vermont & New Hampshire. The game is preceded by a spectacular parade of Shrine Units from throughout the Northeast Region. It is one of 30 Shrine Football Games played every year across the country.

"Strong Legs Run That Weak Legs May Walk" is the motto of every Shrine Football Game and it can be seen every summer as 72 young men from New Hampshire and Vermont play their hearts out for the benefit of the children in the Shrine hospitals. And, when they step off the field at game's end, they become
alumni
and as such never forget the children they played for.
---
The Real Winners are the Children in the Shrine Hospitals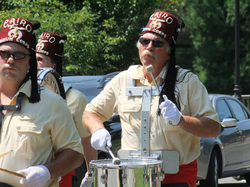 The Shriners Hospitals provide care for children up to the age of 18 with special health care needs, and conduct research to discover new knowledge that improves the quality of care and quality of life of the children and their families.

Seventy-two of the top graduated high school seniors from New Hampshire and Vermont are selected to square off each year in a football game where the real winners are the Children in the Shrine Hospitals. More than 4,000 players have participated in the event, of which about two-thirds still live in the Twin States.


---

Heroes: A Shrine Maple Sugar Bowl Documentary

"The Shriner's Bowl has always been an inspiration to us. Every year we have customers and employees whose kids are playing in it, and we love seeing all the excitement it brings. This year we wanted to show our appreciation for what the event is truly about."

~ Jason Quenneville, General Manager, White River Toyota


The Shrine Maple Sugar Bowl has raised over $4.5 Million dollars and countless spirits in their 62 years of providing unprecedented care to families and children in need. But its story has never been told like this.
White River Toyota is proud to present "HEROES" the latest Studio Community Film which salutes the players and patients who are transformed as a result of their "Maple Sugar Bowl" experience and the incredible work of the Shriners Hospitals.
Learn more or donate at
ShrinersHospitalsforChildren.org
.
More Color & More Pagentry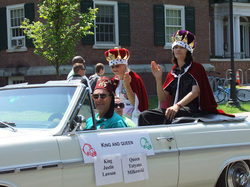 The Shrine
All-Star Band
first appeared in 2006. Now every year 100 musicians from New Hampshire & Vermont high schools demonstrate their musical skills as they march down Main Street of Hanover and perform at half time.
Yes, it's a day for the entire family, and the net proceeds from the Game benefit the three Shrine Hospitals here in the northeast:
Montreal, Canada
&
Springfield, MA
, and
Boston Burns
, Boston, MA.
---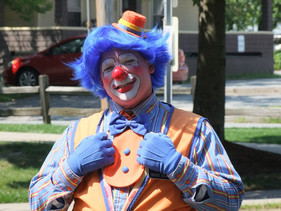 Photos courtesy of Marilou Childs & Doug Austin